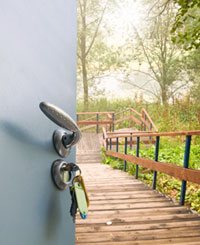 Here at Central Lock Key Store, our goal is to deliver top-notch and highly reliable 24/7 emergency locksmith services in Los Angeles, CA. We respond to all business locksmith and residential service calls at once. Being available 24/7, we're the only lock & locksmith service provider that can be reached anytime including weekends, off-hours and holidays too. Central Lock Key Store is proud of the fact that we are there for you at times when other providers are unavailable to address your concerns. We can handle any type of emergency issues, apart from handling regular day-to-day locksmith issues. We take care of home security needs, and answer business calls and promptly respond to automotive locksmith needs. The Central Lock Key Store team works tirelessly, day and night, to give you the superior service you require, as and when you need it.
Central Lock Key Store has been a famed locksmith service provider in Los Angeles for almost ten years. Our locksmiths are adept in using cutting-edge tools and technology to solve the most challenging lock & locksmith issues. We can take care of everything; right from resolving a car lockout situation to helping you get back into your house through our unlock services to installation of high-security locks in commercial buildings.
The highly-skilled locksmith team at Central Lock Key Store is capable of working with lock systems that provide advanced security features. Being well-equipped with the latest tools of the trade and trained rigorously to deal with virtually any type of lock & locksmith call, our team stays one step ahead of our competitors in terms of skill and competence. We don't just believe in working with the contemporary, but are always on the lookout for new and more advanced locksmith techniques. Apart from ongoing and continuous training, our locksmith team also visits the workshops and conferences every year to keep pace with the latest trends in the locksmith services industry, including new technologies, techniques and tools.
The most important thing to us is your satisfaction and we've created a record for exemplary client satisfaction over the years. And when you reach out to us for any type of locksmith service, we always send a professional technician to resolve your issues quickly and help you get back in action.
Emergency Locksmith
When faced with a car lockout or any other emergency situation in the middle of the night or on a holiday, whom do you call? Irrespective of where and when the issue takes place, Central Lock Key Store is ready to serve you with 24-hour emergency locksmith services when most of our competitors aren't. With a dedicated team of technicians and large numbers of mobile locksmith vans stationed throughout the Los Angeles, CA area, we can reach anywhere 24/7. Our rapid response to emergency calls has earned us a positive reputation in Los Angeles, CA area.
Security Professionals
The technicians at Central Lock Key Store are no ordinary locksmiths but are qualified to provide professional locksmith services. This means that our experienced team can evaluate your home security or commercial setup, provide expert information on the effectiveness of your locking systems and can assist you in figuring out if the proposed solution is right for your needs.

We understand that adequate safety and security is vital to help you enjoy a healthy and peaceful state of mind. With Central Lock Key Store locksmith services, you'll get just that! Reach out to our representative; they're waiting to talk to you about tackling your locksmith issues in the best possible way.
What does a Locksmith Do?
Locksmithing is a trade with a rich history that traces back to the 1800s. It's a common misconception amongst the public that locksmith services comprise of simply making lock replacements, key duplication and key cutting. Today, with great advancement in technology, to be competent in the role of a locksmith one needs to train and learn about advanced high-security lock systems and the latest lock & locksmith equipment in order to keep up with an ever-evolving security landscape.

Whether it's for your home, car, or place of business, Central Lock Key Store can help you enjoy long-term security benefits through our first-rate and affordable locksmith services.

We Provide Lock Opening in the following zip codes.
90001, 90002, 90003, 90004, 90005, 90006, 90007, 90008, 90010, 90011, 90012, 90013, 90014, 90015, 90016, 90017, 90018, 90019, 90020, 90021, 90022, 90023, 90024, 90025, 90026, 90027, 90028, 90029, 90031, 90032, 90033, 90034, 90035, 90036, 90037, 90038, 90039, 90040, 90041, 90042, 90043, 90044, 90045, 90046, 90047, 90048, 90049, 90056, 90057, 90058, 90059, 90061, 90062, 90063, 90064, 90065, 90066, 90067, 90068, 90071, 90077