High-Security Locks Los Angeles, CA – Central Lock Key Store
The burglars of today have become smart. Using modern technologies and complex gadgets they are able to breach archaic security systems easily. If you have secured your house with traditional locks then you have to know that they are not as effective as you think. To ensure that no one is able to break into your house when you are away it is important that you invest in high-security locks. Such systems are expensive, granted, but they can prevent you from losing a fortune in an event of a burglary attempt.
Central Lock Key Store is the leader in installing some of the most advanced locks in residential as well as commercial establishments. Not only we provide professional services, we do so at unbelievable prices.
Why do You Need High-Security?
Imagine you return home from your business facility, and go to sleep without a worry. However, a few hours later, someone breaks into the business building and steals away significant business data and files, apart from the expensive equipment. And here you are sleeping at your home, unaware that you just lost your entire business. This is possible. By choosing to not upgrading your office security you only risk your business. Thus, it is better to act wise, and invest in high security locks that can make you confident and give a peace of mind.
Here are some of the reasons why high-security locks are different and better than most locks:
Protection from hacking, if you are using smart locks that come with cutting edge technology
Anti-manipulation design
Complex keyways that make it almost impossible to lock pick
Usage of tough materials in the lock's structure
Resistance in forced entries
Get High-Security Locks Today!
Different homes and businesses require different kinds of advanced locks. Depending on the value of the assets involved you can change the budget for the security system. Needless to say, making such decisions can be tricky. Fortunately for you Central Lock Key Store can help in this. Our team can inspect the area and give you the best recommendations according to your budget. If you decide to go for it we will install high security locks that you will give the area a high level of protection that you seek.
Our locking options include: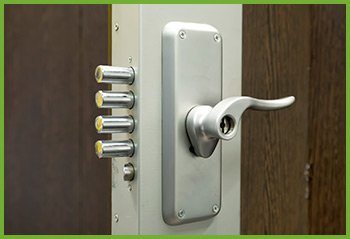 Knob/lever locks
Digital locks
Electromagnetic locks
Deadbolts
Heavy Duty padlocks
Smart locks for residences and businesses
Just give us a call if you need locksmith help in Los Angeles, CA area, and we will assist you immediately.